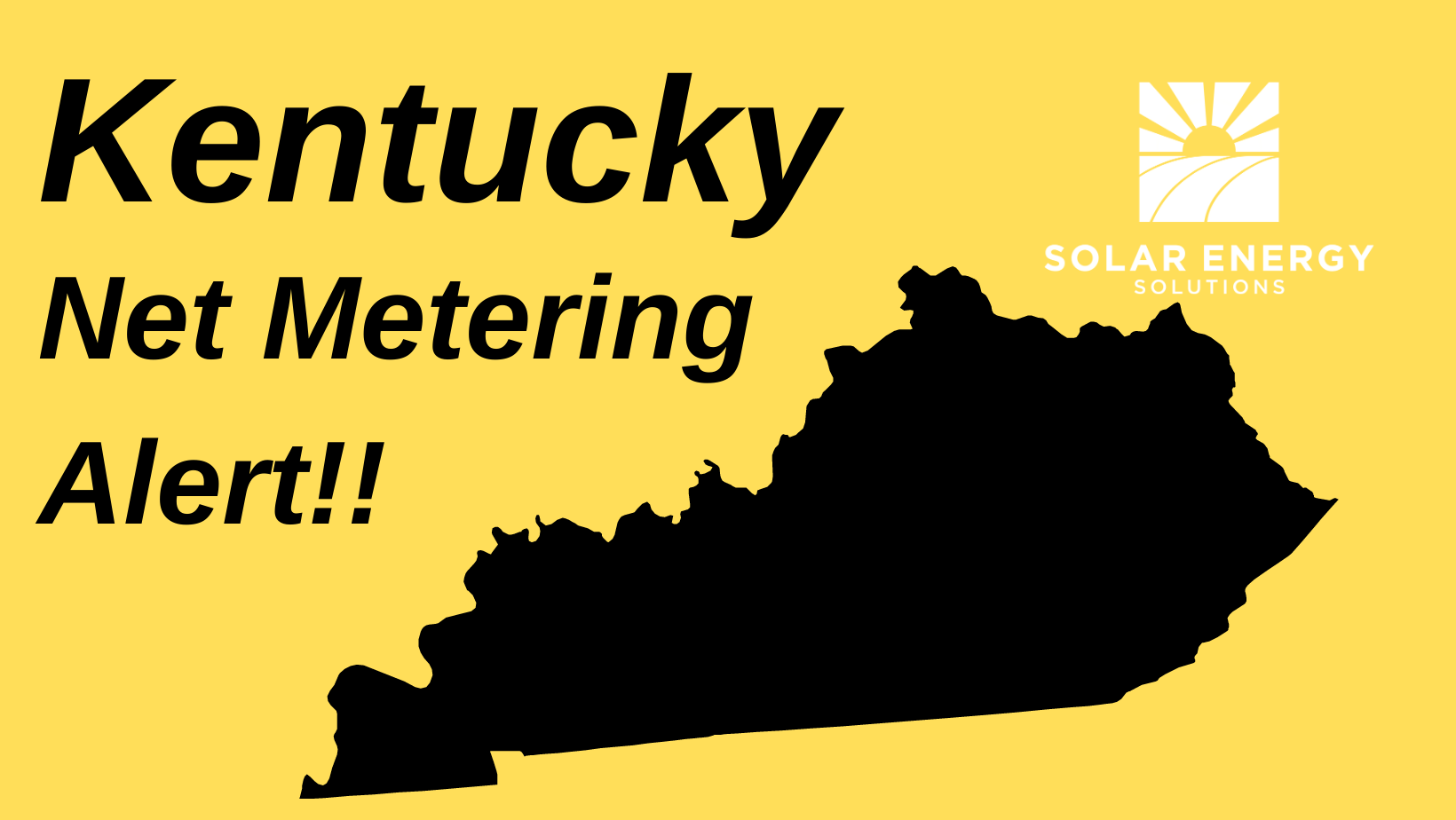 What You Need to Know Right Now!
As many of you may know from our previous updates on net metering in Kentucky, there are currently two utility rate cases in progress that seek to reduce the value of solar that is exported to the grid from residential, small business, place of worship, school and farm systems.
The first rate case from Kentucky Power (AEP) which sought to reduce the value of net metered solar was recently judged by the PSC to not have sufficient merit or proof to proceed. They were however given a second run at presenting their case with final judgement now expected May 15,2021.

It should be noted that, at this time, Kentucky Power has ALREADY IMPLEMENTED their new metering tariff. Any systems already energized are grandfathered into the old net metering rate under NMS 1. Any systems energized Jan 14 or later will be put on the NMS 2 at a value of $0.03 per kWh. However, those on NMS 2 would be adjusted to the final rate that is determined by the rate case. Clear as mud 🙂

LG&E/KU's case is expected to be decided by June 30, 2021 at the latest. Should they win the day they have stated in their submission that net metering under current conditions will be grandfathered in ONLY if systems are installed, inspected and energized by that June 30th 2021 date, not just with an approved net metering application. New systems will be credited at about 20% of retail rate.
The PSC has belatedly hired an external rate case consultant in Stratagen to provide expert input to both cases. Their resume looks balanced to the eye, but who knows.
KYSEIA (Kentucky Solar Energy Industries Association) and SES lawyers continue to fight these changes but we want to keep you informed on what is going on.
If you are planning to install solar this year in LG&E/KU territory, you may want to move more quickly to secure the current and fair 1:1 net metering with equal value paid for energy going into and coming out of the grid.  Even though May and June may seem like a long way a way, it can take 8-12 weeks to move a project through design, permitting, installation, and inspections to finally being energized. We are already booking into Q2 (April)
We very much want you to be informed about the timings, as we know them now, so you can make the most informed decisions about your transition to solar power. We are continuously involved in following and intervening in these cases, but can't predict when timings may change or how they will eventually turn out.
Things we are doing on behalf of solar in Kentucky include:
SES itself and as the current chair (and founder) of KYSEIA is at the PSC fighting for solar rights in KY. We, better than anybody, know what is going on and are committed to keeping you informed. We will provide updates through mailings, Facebook, Twitter, Instagram and web blog feeds as things progress.
SES will proactively prioritize KY installs, where possible, in the period between now and these changes, should they occur, so we can fit in as many people as possible before any negative changes become reality.
Things for you to do or know now:
If you are thinking of going solar this year, make the move now and contract quickly. We cannot predict the outcome of these cases, but feel it's better to be safe rather than sorry.
If the utility has its way, an activated system is required to grandfather you in to current 1:1 net metering, not just a deposit or contract. Be aware that from contract to inspection and meter swap can take 8-12 weeks
If the utility has its way, system size increases or additions after any net metering will not have the original 1:1 net metering arrangement, but will subject the ENTIRE system, including existing array, to the current valuation when energized.
Remember, we don't have a crystal ball by any means when it comes to predicting the outcome of these cases. On the bright side, the PSC board makeup is more balanced than it has been historically, but that being said, we do recommend erring on the side of caution.

If you have questions please feel free to reach out to us and a solar consultant in your area will be able to provide answers etc.