Updated (8/9/2021)
There is a lot to think about when exploring a transition to clean, independent solar power. Solar installer qualifications are one of those things that should be on the top of your list when thinking about which company is right for your project. It's really not that much different than any contract or you're consider hiring. It's just a different set of qualifications and certifications, and once you know those, you will be able to confidently choose the right solar installer/installation company for your home or business project.
Obviously, we hope you will transition to solar with us, but if not us, we hope it will be with a good, reputable solar company, one with installer qualifications that will deliver a quality system at a reasonable price for the product and installation, and with good installers that are fully qualified and trained.
To help you on your journey, we've put together a check list of installer qualifications for you. Please feel free to download this check list so you can have it with you when you start talking with different installation companies.
At the top of the list of installer qualifications is certification and expertise. Anyone can say they are qualified, but can they prove it with NABCEP Certified Installers and electricians at the Journeyman or Master level? Read more about our qualifications on our website and below.
Next items on the list of installer qualifications are focus, attention to detail, experience, safety, warranty, and experience. We firmly believe that when you look at our qualifications, we will stand head and shoulders above the rest. We also recommend that everyone gets at least 2 proposals for your project. When you are looking at 2 different quotes/proposals, the difference, in price, output, warranty, etc. are a good place to start when asking follow up questions.
One items that we recommend asking any installer about is background checks for employees. SES does this for all install, service, sales or office support staff. The very nature of installing solar on someone's home or business means giving others routine access to your personal and private space to complete their work. You can rest assured that our employees (all of them) have passed a 7 year county, state, and national background screening as well as a detailed motor vehicles check. Many of our staff who perform our institutional and military work are cleared to even higher level with 10-year+ checks!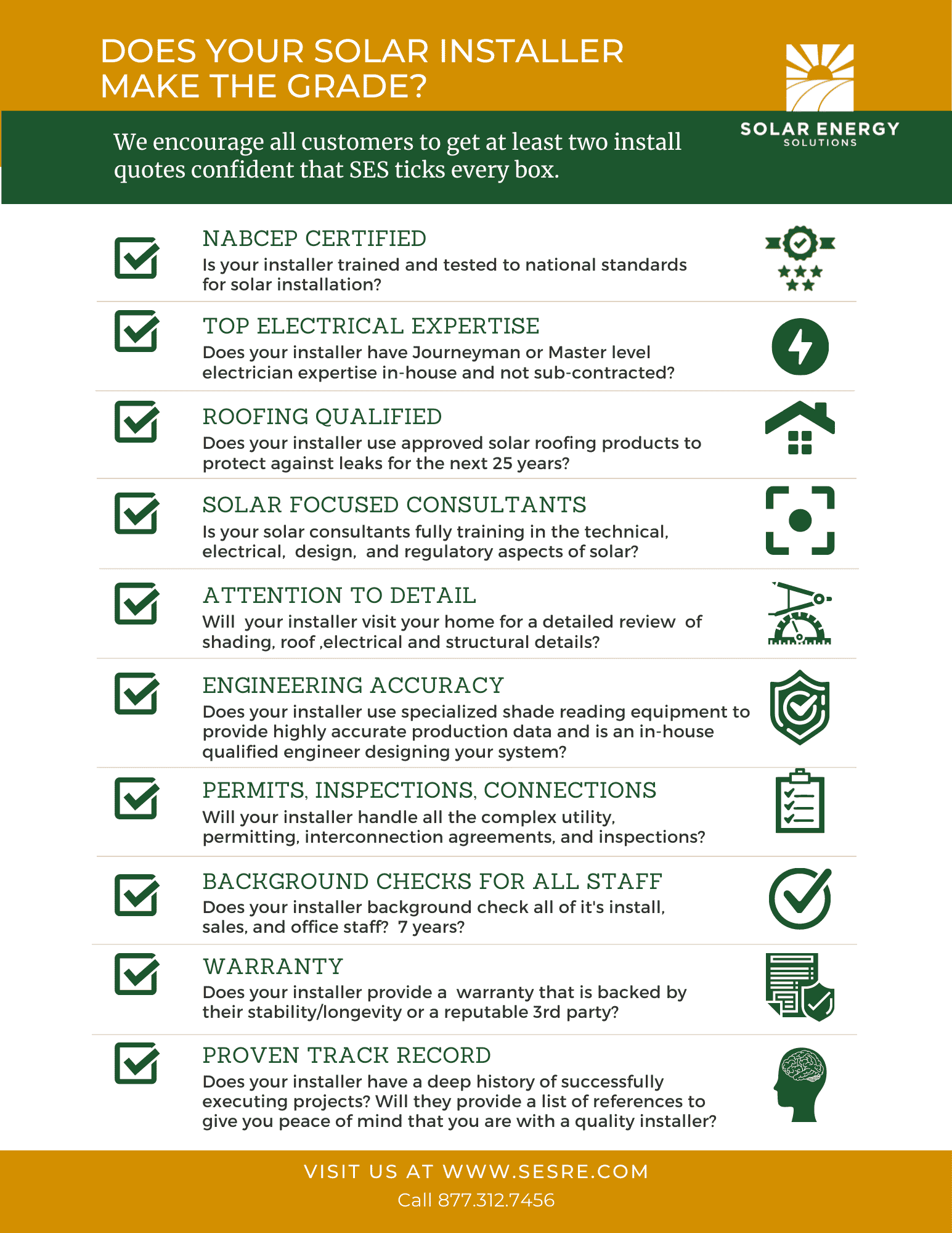 *Original article posted on 11/16/2020