Why should you choose Solar Energy Solutions for your installation?  We've worked hard these past 15-years to make that an easy answer.  It's what we call our  QCPP or Quality + Capabilities + Proven track record = Peace of mind for you. When you are making a large investment that will last 40 years or more you want to be with someone who wrote the book on solar in Kentucky.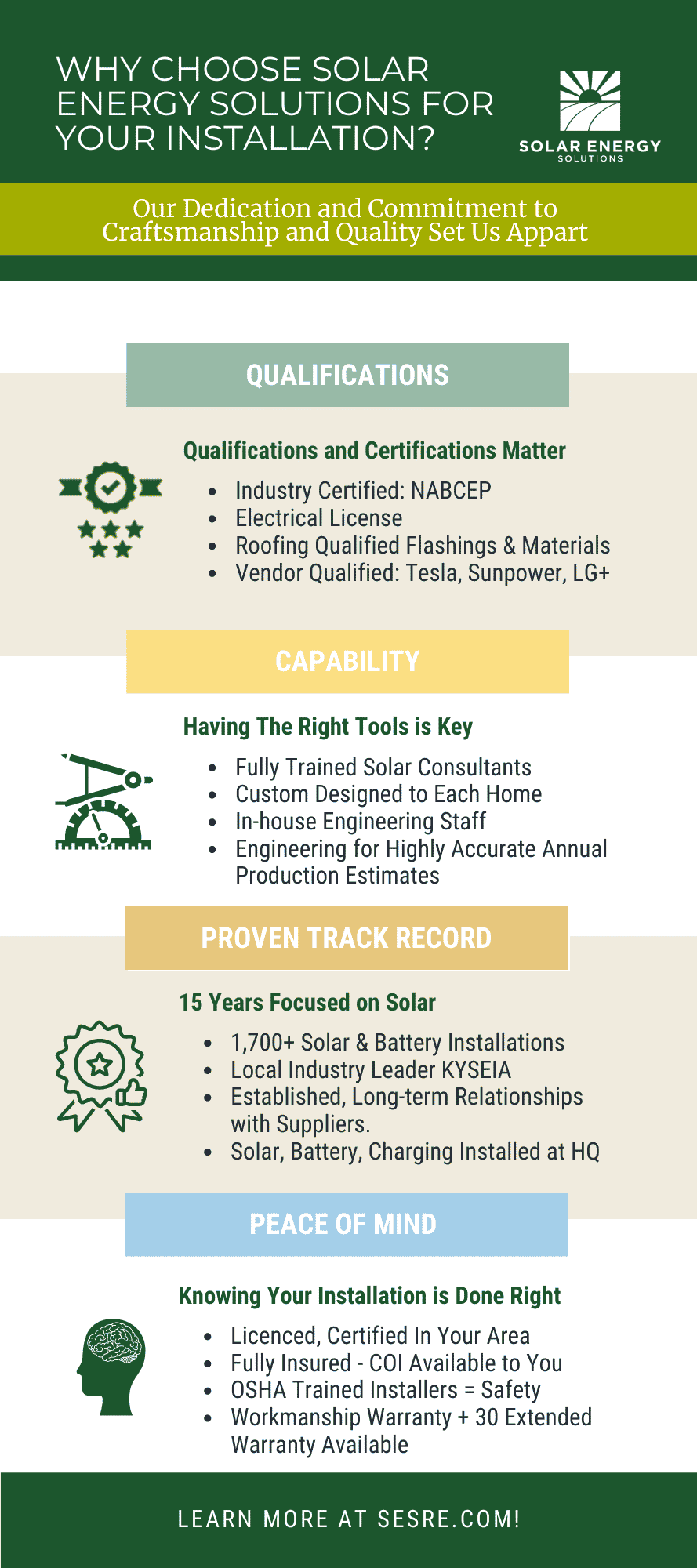 Quality
We believe that qualifications and certifications matter.  We've spent our time and resources to be sure that our staff have the top national certifications and highest quality components (for example, only Tier 1 solar panels, like SUNPOWER, LG, Tesla, Canadian Solar, and Trina) to ensure that your installation meets the highest industry standards with premium industry materials.

Capability
In relative terms, solar is still a new technology/industry and there is a lot of know-how and knowledge out there which is always growing and changing.  Because of that, we believe it's important for home and business owners etc. to pick an installer that dedicates time and resources to having the most highly trained and knowledgeable staff.  SES staff are fully trained, examined and certified in the fundamentals of solar and the latest emerging technologies on a regular basis. We are not learning the trade on your job!

Proven Track Record
SES has a 15-year history of installing solar and battery storage in Indiana, Illinois, Kentucky, Ohio and surrounding states. We have completed nearly 2000 installation and were growing each year. Check out our Customer Results section to see some examples of our work.

Peace of Mind
When you combine our Quality, Capabilities, and Proven Track Record, you can rest assured with the peace of mind you needed to switch your home, business, organization, or farm to clean, sustainable solar power, knowing your project is in our capable hands. When we install your solar you become a long-term member of our clean energy family.